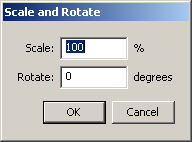 Since Flash MX 2004 has been introduced by Macromedia, people has been hacking around with one of its most powerful development features: JSFL, the JavaScript-like macro feature that helps you create new commands, tools and effects to be executed within the Flash authoring tool.
Unfortunatelly, this feature/language is largely undocumented, so Flash coders all around are scratching their heads trying to get their JSFL stuff to work the way they want. They've even created a small HTML documentation based on the syntax help from the Flash files themselves, but it's still a big black box.
At the same time, Flash users who switched to Flash MX 2004 have been scratching their heads trying to understand why the hell would Macromedia drop some old, stablished, useful features from Flash MX 2004 altogether. One of such features – and my biggest personal grudge against MX 2004 – is the fact that the "Scale and Rotate" dialog – used as ctrl+alt+s on a PC – was removed from it. This dialog has been present on Flash since the very first Flash version (I believe) and oftenly when trying to work with Flash MX 2004 I'd hit ctrl+alt+s for the 1000th time only to scream in anger for the absence of it (and no, the transform dialog isn't just the same thing – it's absolute and not relative, and you still have to use your mouse to use it properly).
I decided to give it a try and, despite the complete lack of any kind of JSFL and XML UI documentation and/or examples, I was finally able to create such a dialog that acts just like the old one used to (although the dialog visuals are very basic). With the help from the Flashcoders list archive and the almighty search feature, I bring you… the Ctrl+Alt+S dialog.
To install it, download the source files: scaleAndRotate.jsfl and scaleAndRotatePanel.xml. Save both to your Flash 2004 "Commands" directory (usually C:\Program Files\Macromedia\Flash MX 2004\en\First Run\Commands). Restart Flash MX 2004, and the new "scaleAndRotate" command will be listed on the Commands menu.
Now you just need to assign it a shortcut using the Edit > Keyboard Shortcuts dialog, and you're done. Ctrl+alt+s once again! HOORJ!
I'll add the ability to remember values and change the dialog appearance (to work like the original one) later.
Update (11/Nov): Macromedia has added the Scale and Rotate relative dialog back to Flash on its point release (Flash 7.0.1 update). I strongly advice Flash MX 2004 users to upgrade – it's a free update – instead of using my semi-functional JSFL hacks. 🙂