In my day-to-day doing development at Firstborn, it's pretty common that we run into questions that don't have a very clear answer – for example, what would be the best technique to do something (in terms of performance).
When something like that happens, depending on the time constraints, we may either do some quick test, or just go with what we assume is best – creating a theory and sticking with it. At times, however, a certain issue becomes so important it requires a more extensive research – having the scientific method applied to it, so to speak.
I've ran into one of those recently with a website we've just created – Expedition Titanic. In that website, we have a few videos running in quasi-fullscreen (taking the whole website space, that is) and we were having trouble with performance in some computers – dropping frames, not playing smoothly, etc.
In previous projects, we had some assumptions of how full-site videos should be encoded – resolution, bitrate, codec, etc. Most of those were based on actual experience, but it was scattered information without any real data to back it up.
Video playback performance was becoming more of an issue in every website I've been working on – this is also true of the previous website I've developed here, for the 5 REACT campaign – and I decided to stop relying on myths, personal theories or word-of-mouth and do some real tests – rather, benchmarks – to actually come up with the best solutions for video playback in Flash in terms of performance.
My question was not about the video quality itself, but rather its playback quality – how smooth the video frames were being played, how many frames were being dropped; in sum, what was the impact of different encoding methods on playback performance. We generally assume F4V (H.264) videos have better quality, but which one requires more from the CPU to decode? What's the impact of actual resolution and bitrate?
I have to confess I had some personal beliefs I wanted to put to the test with these benchmarks. My theories were as such:
On2 VP6, (FLV) videos are faster to decode than H.264 (F4V) videos.
H.264 decoding is faster on multi-core machines; On2 VP6, not as much.
Overall, OS X has even worse decoding performance for H.264 videos.
Videos with higher bitrates are slower to decode and this impacts the rendering speed of high-quality videos.
Video playback performance in Linux is horrible.
Still, I approached the problem with a neutral stance and would be as happy proving as I would be with disproving any of those theories. The main reason why I wanted to do the test in the first place is because I wasn't really sure any of them were really true, but I still used them as guidelines when creating content.
Measuring video playback quality
My initial plan to measure the playback quality was using the (Flash 10 only) droppedFrames property of the NetStreamInfo object and the (undocumented) decodedFrames property of the NetStream object. That way, I hopped to be able to measure the number of skipped frames and measure the time spent decoding in a more rendering-agnostic fashion.
After some initial tests, however, I decided against it because the values I hot were just not reliable enough: while the behavior of both properties was predictable for FLVs (the sum of decodedFrames and droppedFrames would be the number of total frames in the video), their values while playing an F4V video were quite undecipherable; there seemed to be a correlation between playback quality and the value of both properties, but their actual relationship is a mistery – for example, does droppedFrames contain the number of frames dropped during decoding, or during decodoing and playback? Does decodedFrames contain the number of frames decoded, or decoded and rendered? The numbers state different things at different times, giving that either property can have a higher value than the other, and the fact that they seem to behave differently depending on the choice of video format.
Due to this, I've decided to try and have a 30fps video running inside a 60fps SWF, and use the final SWF speed (measured by onEnterFrame events) indicating how much time was being spent with video decoding and rendering. Nevertheless, the number of frames decoded and dropped are still included in the final results.
Test rationale
The idea of the test was finding out the best combination of encoding variables for proper video playback, so I decided to use these parameters:
Format: FLV (On2 VP6) and F4V (H.264)
Bitrate: 500Kbps, 1000Kbps, 1500Kbps, 2000Kbps
Resolution: 1920×1080, 960×540, 480×270
This gives a total of 24 different encoded files for the same video. They would all be rendered at the same size (taking the whole browser space); the idea is that it'd allow me to have a better understanding of how resolution, bitrate and format changes impacted the playback quality, with the same area being drawn.
The file used was a rendering of the intro to the Expedition Titanic's "Explore" area, originally rendered at 1920×1080 and set at 30FPS.
The testing project was a small SWF file that would load a file, play it, unload it, and skip to the next file. The SWF was set at 60fps, using maximum quality; nothing else was present on the staging area (the idea was to test video decode speed without compositing tradeoffs), and the video was scaled to fit inside the full browser area (similar to the Stage scaleMode of StageScaleMode.NO_BORDER). The executing SWF was kept focused during the whole test.
I used On2 VP6 as the sole codec for the FLV videos. Sorenson Spark, while considered to have better decoding performance, is usually not a parameter on the video encoding decision equation anymore due to its sub-standard encoding quality.
For the FLV encoding, I used Adobe Flash Video Encoder (CS3) using a normal encoding (1-pass). For the F4V encoding, I used Adobe Media ENcoder (CS4) with a "High" profile, Level 4.1, and encoded with 2-pass VBR where both target and maximum bitrates where the bitrate being tested. And since the idea was testing raw playback quality, as opposed to accurate seeking ability or any other parameter, keyframe placement distance was kept as automatic on both.
The videos were encoded without an audio track.
Results
Here are the test results, plotted in line charts. The question these numbers try to answer is: when playing a 30FPS video on a 60FPS SWF, what's the actual rendering framerate?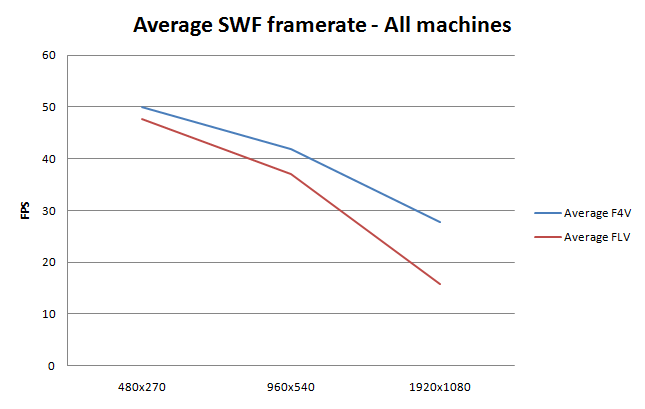 The test was ran on a number of different computers, from low-end to high-end, Windows PCs and Macs, multi-core and single-core machines. The idea was not measuring performance of each setup against each other – they had different specs, and were ran at different resolutions – but rather to see the differences between different videos being played on the same machine.
"Slow Windows" was an old Dell laptop running Windows XP SP2 at 2GHz (Intel single core) with 1gb memory. Tests used Firefox 3.6.8 and Flash Player 10.1.82.76.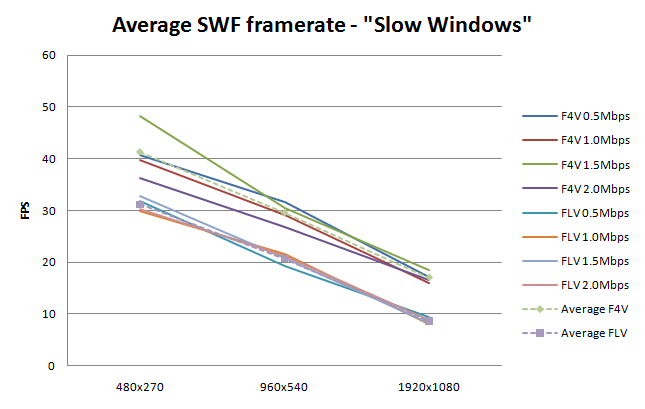 "Medium Windows" was a desktop running Windows XP SP3 at 3GHz (Intel single core) with 4gb memory. Tests used Firefox 3.6.8 and Flash Player 10.1.82.0.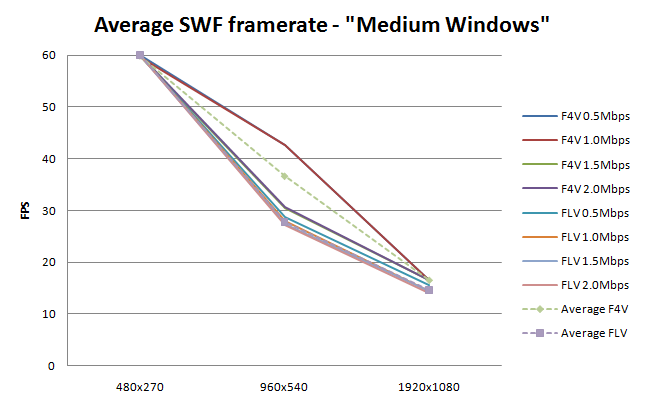 "Fast Windows" was a desktop machine running Windows 7 64bits at 3.33GHz (Intel Core 2 Duo, 2 cores) with 4gb memory. Tests used Chrome 6.0.472.51 (beta) and Flash Player 10.1.53.0.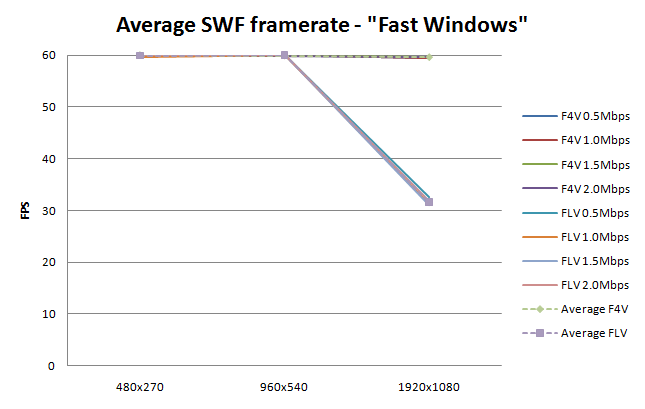 "Fast Mac" was a 27″ iMac running OS X 10.6.4 at 3GHz (Intel Core 2 Duo, 2 cores) with 4gb memory. Tests used Safari 5.0.1 and Flash Player 10.1.53.64.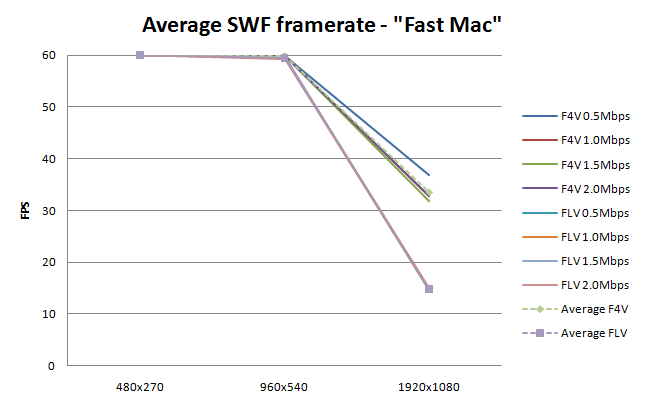 "Slow Linux" was a laptop running Ubuntu 10.04 64bits at 2GHz (AMD 3500+ single core) with 461MB memory. Tests used Firefox 3.6.8 and Flash Player 10.1.82.76.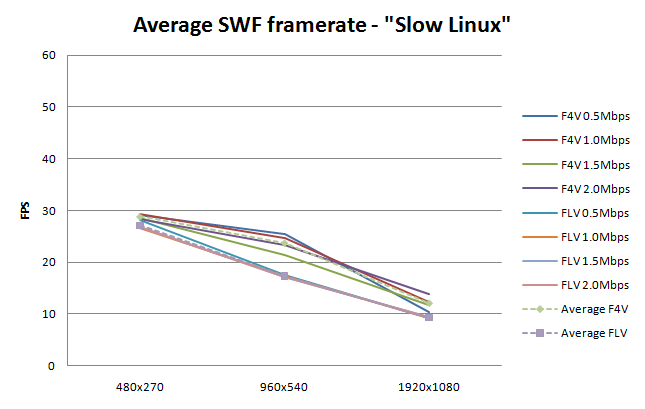 Result analysis
Some points can be drawn from the results:
F4Vs have better playback quality
Simply put, H.264 decoding is faster than On2 VP6 decoding, so F4V videos easily give best results in terms of overall playback performance of a video on a Flash website . This holds true for both single-core and multi-core machines, and for every platform tested (Windows, Macintosh, Linux). On2 VP6 actually uses a new thread on multi-core systems for better performance, but apparently this is not enough to be faster than the (usually) hardware-accelerated H.264 decoding.
Adding to the best performance the (visibly) better quality of H.264 encoding, F4V becomes an obvious choice for video encoding in Flash. My recommendation is that F4V videos should always be used instead of FLV videos, except when a feature supported by FLVs is needed (transparency channel; legacy Flash versions support; cuepoints; odd video dimensions).
H.264 doesn't have any special impact on OS X machines
F4V video performs just as well on a Macintosh, not being particularly taxed in relation to comparisons with any other system. Specially with the newly added hardware acceleration, there's doesn't seem to exist any valid concern with how the decoder performs in this platform.
Actual bitrate doesn't have that much of an impact on performance
While technically not true – a higher bitrate/quality does mean a lot more data to process – the actual impact of video bitrate in overall performance was near negligible in my tests. In the case where one needs better performance for a video, it makes more sense to lower the resolution than to lower the bitrate.
Linux performance is not that bad
Simply put, my tests on a very low-end machine produced results that were easily watchable. They would drop considerably below the target framerate of 30fps, but considering the target machine, and a comparison to my low-end Windows machine, it does feel pretty good overall. Not fast, but not too terrible either.
Conclusion, or TL;DR
H.264 (F4V) videos are better performance-wise. Use them when possible.
Additional notes
You'll find the full results (with data for every video tested) here. The actual benchmark is here if you want to test if yourself (not recommended at all, as it takes at least 31 minutes to complete, and downloads 240mb of videos – and you can only see the results once it's done).